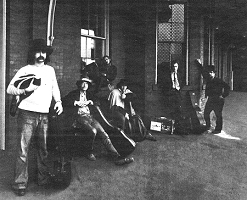 l to r: Pete Levin (with Thelonius Skunk),
Chris White, Victor Bernardoni,
Vinnie Pasternack, Mark Bieber,
Bill Comeau
Following some informal early editions, the Incredible Broadside Brass Bed Band of New Britain was formed in the early 70s by singer / songwriter Bill Comeau, who pulled in some old friends for the project and added some new ones to round it out. Signed to Poison Ring Records, a small Connecticut company, the group recorded their first album in 1972, live in the studio to an audience that had previously been plied with lots of wine. The result was "THE GREAT GRIZZLY BEAR HUNT" which turned out to be the only recording released by the band. There was a spin-off however - a 45 single of one of the songs from the album. The single was Comeau's "LITTLE DEAD SURFER GIRL", a satire of 50's rock-a-ballads. Both the album and single developed a cult following which survived long after the band had broken up. The upper left photo is the band's first publicity shot, used on the GRIZZLY BEAR cover.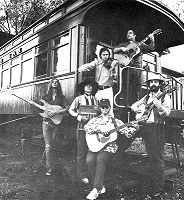 l to r: Paul Ossola (bass), Ron Paglia
(drums), Tom Kobela (guitar),
Vinnie Pasternack (violin),
Bill Comeau (guitar)
Pete Levin (banjo)
For a few years, with ongoing personnel changes, the band performed live around Connecticut in many clubs and concert venues. The original recording turned out to be a feeling-out session. Over time, humor dominated the performances and the original Ragtime style of the band evolved to include an eclectic assortment of satirical music. Some recordings were made, but never released. Among the lost material was a project depicting "the Big Mike Pryzytzkywytz Show", a fictitious children's Saturday morning TV show. The band performed much of it live however, inspiring rare moments where a drinking bar crowd would be acting the part of a toddler audience - boisterously singing "Teddy Bear's Picnic" - or on their feet, hands over hearts, singing "God Bless America". The band was definitely ahead of it's time with it's visual performances. But with it's totally uncommercial material, the audience was limited to a small group of cult fans, and a large group of drunken revelers. (Our favorites!) The lower right PR photo is edition 2 of the band - the live touring unit. (There weren't any tours, but damned if we weren't ready!)