Over the last three decades I've been considered a synth specialist, plying my trade for Jazz and Pop icons like Gil Evans, Jimmy Giuffre, Paul Simon, Annie Lennox, Lenny White, John Scofield - it's a long list - and having a ball doing it. I even turned out a few Jazz albums of my own.

In 2007 I decided to revisit my roots and my first love, the Hammond Organ, with the album DEACON BLUES. I've been playing organ for years, but had never recorded in organ trio format. making music on my favorite axe with some great musicians ... that's as good as it gets.

in 2008 CERTIFIED ORGANIC was chapter two, pushing the envelope of the traditional organ trio and exploring the path between Jazz and Funk. Four different guitarists were featured for this set, each making his own unique contribution to the mix.
in 2010 the organ trio series continues with JUMP!, this time featuring the remarkable Dave Stryker on guitar and legendary drummer Lenny White. They are joined on 5 tracks by the effervescent percussionist, Manolo Badrena. Pete and Dave began playing together only recently, but Pete and Lenny go back years to when they both were in Gil Evans' band. Pete and Manolo also originally met on a Gil Evans gig.
The final track on the album has a special background. Pete recorded Honeysuckle Rose in 2008 as a duet with the late Joe Beck. It wasn't used on the album project. Recently, Pete retrieved the track and remixed it, having Danny Gottlieb overdub drums. The three had played together many times over the years. It's just a straight ahead old chestnut, but it's a treat to hear Joe again.

TO EVERYONE WHO BREATHED LIFE INTO THE PROJECT:
The musicians of course; Lenny, Dave, Danny and Manolo; Alan, Roman and Manfred for making me sound good; Gil, Jimmy, Tee, Joe & Jaco, who are always looking over my shoulder ...
Thanks guys. I'm fortunate to count you all among my friends.
Pete
Woodstock, NY September 2010
1 JUMP! 6:50
(Pete Levin ©2010 P-LEV, INC. ASCAP)
2 EXCLAMATION! 6:49
(Pete Levin ©2010 P-LEV, INC. ASCAP)
3 THAT WAS THEN 6:38
(Pete Levin ©2010 P-LEV, INC. ASCAP)
4 THE BIG DOG IS ALWAYS RIGHT 6:48
(Pete Levin ©2010 P-LEV, INC. ASCAP)
5 TALK TO THE ANIMALS 6:32
(Leslie Bricusse © EMI BMI)
6 NOSTALGIA IN TIMES SQUARE 5:58
(Charles Mingus © Flying Red Rhino BMI)
7 LITTLE SUNFLOWER 6:04
(Freddie Hubbard © Hubtones Music BMI)
8 CANDIDO 5:45
(Pete Levin ©2010 P-LEV, INC. ASCAP)
9 ALONE TOGETHER 7:10
(Howard Dietz & Arthur Schwartz © Schwartz Arthur Music ASCAP)
10 HONEYSUCKLE ROSE 5:00
(Andy Razaf & Thomas Waller © Warner Chappell Music ASCAP)
Pete Levin: organ (tracks 1-10)
Dave Stryker: guitar (tracks 1-9)
Joe Beck: guitar (track 10)
Lenny White: drums (tracks 1-9)
Manolo Badrena: percussion (tracks 1,3,4,7,8)
Danny Gottlieb: drums (track 10)
Produced by Pete Levin
Recorded by Roman Klun, Manfred Knoop, Pete Levin and Joe Beck
Recorded at The Schoolhouse, Woodstock, NY and at Knoop Studio, River Edge, NJ
Mixed by Alan Meyerson at Studio M at Remote Control Productions, Santa Monica, CA
Lenny White plays Innovation drums, Istanbul Agop "Epoch" cymbals, Vic Firth signature sticks & Remo drumheads
Dave Stryker appears courtesy of SteepleChase Music
Pete's Hammond is an RT3, restored and chopped by Mike Torsone,
played through a 122 Leslie restored by Goff Professional and John Weisner.
CD package design by Pete Levin
Cover Photo by Roberto Scorta
on this page: artist notes cd tracks cd credits cd design art
jump! design art
design by Pete Levin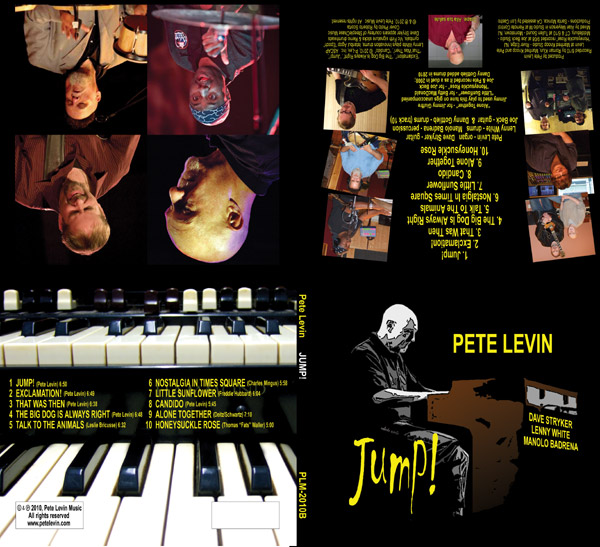 Exploded digipak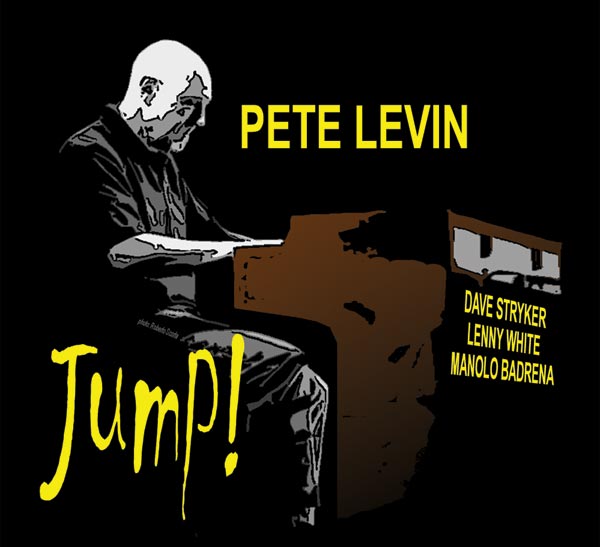 Front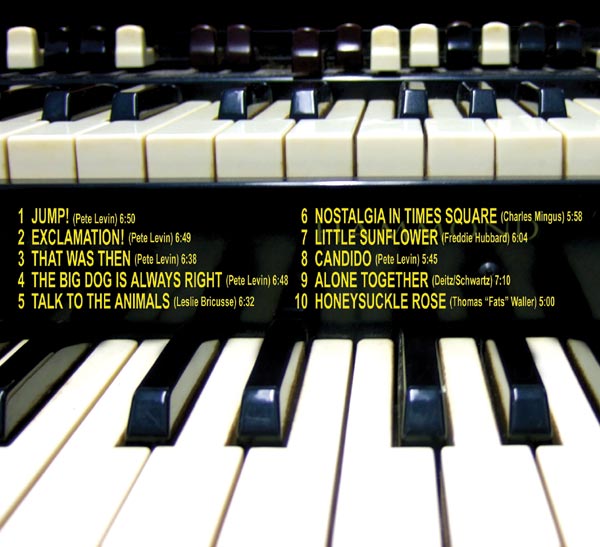 Back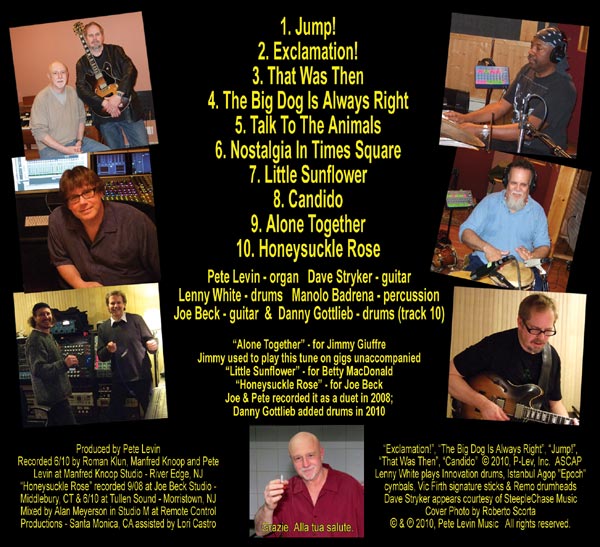 Inside left panel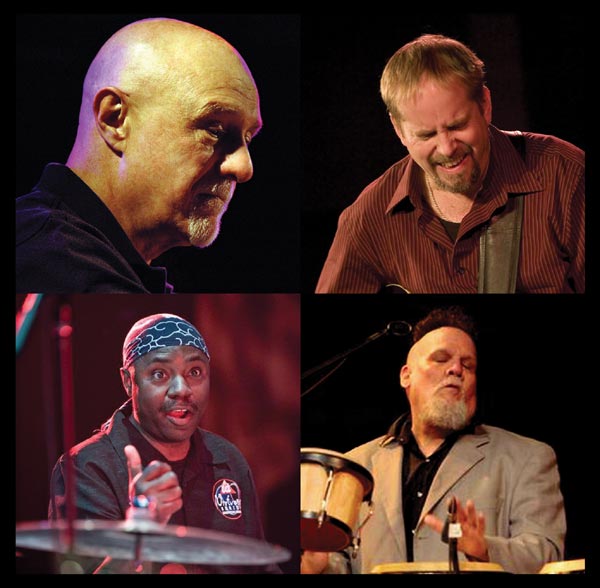 Inside right tray panel