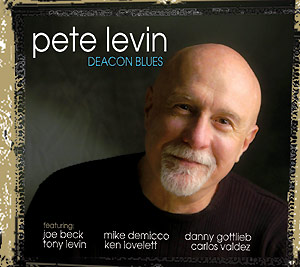 on this page: liner notes artist notes cd tracks cd credits

bill milkowsky's liner notes
Download this document in Word format
On any given Monday night during the 1980s, you could walk into Sweet Basil, an intimate but decidedly hip little haven situated in Manhattan's bustling West Village, and hear the Gil Evans Orchestra performing in all its chaotic glory. Stuffed into the back end of the club, crammed onto the small stage and spilling out onto the floor, were the 15 or so musicians comprising that sprawling, adventurous ensemble. Hunched over a Fender Rhodes electric piano stage left, playing in zen-like fashion while conducting the band with a meaningful nod or significant hand gesture, was the legendary arranger and collaborator with Miles Davis on such landmark sessions as Birth of the Cool, Miles Ahead, Porgy & Bess and Sketches of Spain.

Tucked away in a corner on the opposite side of the stage from Gil, with clean-head and subversive intentions, was Pete Levin doing weird and wonderful things with his synthesizers on swirling, psychedelic renditions of Jimi Hendrix's "Little Wing," "Stone Free" and "Voodoo Child (Slight Return)" along with expansive interpretations of Wayne Shorter's "Parabola," Herbie Hancock's "Prince of Darkness," Charles Mingus' "Orange Was the Color of Her Dress, Then Silk Blue" and "Goodbye Pork Pie Hat," or Gil's own staples like "Orgone," "Jelly Roll" and "Snowflake Bop." Between the miraculous music that seemed to take on a life of its own, the shaman-like presence of the bandleader, the joyful onstage camaraderie of the musicians and the countless martinis consumed, it was a magical, intoxicating scene each Monday night at Sweet Basil. And Pete Levin was in the eye of that sonic hurricane every week, mischievously tweaking our sensibilities with his vintage synth gear.

While Pete long ago made a name for himself on the New York scene as a synth specialist through his longstanding relationship with the Gil Evans Orchestra (from 1973 until the maestro's passing in 1988) and as an in-demand session player, he maintains a passion for piano and organ. On Deacon Blues, his fourth outing as a leader, Levin returns to his roots by embracing the Hammond Organ in a hip and varied program that includes fresh takes on familiar tunes by Steely Dan, the Beach Boys, Ralph Towner, Erik Satie and Jimmy Giuffre. Joined by world-class players and longtime friends guitarist Joe Beck (a ubiquitous session man during the '60s and '70s), guitarist Mike DeMicco (Pete's Woodstock neighbor and band mate for years in the Brubeck Brothers Quartet) and drummer Danny Gottlieb (a charter member of the Pat Metheny Group and former band mate of Levin's in the Gil Evans Orchestra), Pete cleverly reconfigures this engaging material through the prism of a lifelong B-3 fan. "Someone once wrote that I was 'one of the pioneers of the electronic music scene,'" says Pete, whose synthesizer work was also featured for nine years in the cutting edge Jimmy Giuffre 4. "I think that's going a little overboard, but for 30 years or so I have been one of the main synthesizer guys in New York, and I've gotten to play some great music with many brilliant artists and composers - and I made a good living at it. That's as good as it gets! Now in 2006, I thought it was time to explore my first love, the Hammond Organ, which I've been playing for years but never recorded on as a leader. I thought it would be fun, and I was right!" Pete's brother Tony (bassist and longtime member of King Crimson and Peter Gabriel's band) joins in on the fun here, along with percussionists Ken Lovelett and Carlos Valdez. Together they demonstrate an uncanny chemistry that is immediate and infectious.

They come out of the gate in jaunty fashion with a loose shuffle-swing rendition of "Deacon Blues," a Donald Fagen-Walter Becker tune from the hit Steely Dan album Aja. Beck kicks in a soulful guitar solo here and Pete follows with a burning solo of his own. "It's a tune I've always liked and wanted to record," says Pete. "It's original Pop groove is the perfect setting for those great lyrics, but it doesn't translate well as an instrumental piece. By making it swing, I was able to take it someplace new."

"Uptown" is Levin's upbeat boogaloo done in the early '60s Blue Note tradition of Lee Morgan or Grant Green. Beck's use of octaves throughout his extraordinary solo recalls Wes Montgomery while Levin takes his time stretching out on this earthy vehicle, gradually building to a dynamic soul-drenched peak. "It's that classic Jimmy Smith/Grant Green soul-jazz groove that is just so much fun to play," says Pete. The Beach Boys' "Sail on Sailor" is rendered here as easy-going, smooth jazz vehicle with an outstanding blues-drenched guitar solo by DeMicco. Levin's clever arrangement of Erik Satie's classic "1st Gymnopedie" evolves from chamber-like gentility to a jazzy romp highlighted by Pete's organ blowing over Gottlieb's loose, interactive swing groove. DeMicco also turns in an outstanding solo on the openly swinging section before the piece returns to a more subdued 3/4 reading of Satie's piece.

"Once Lost" is Pete's slamming hip-hop flavored original played over a drum loop. DeMicco solos with a nasty vengeance, unleashing screaming speed licks and just a touch of distortion on his solo while Levin's is thoughtful and melodic, eventually opening up to some heightened excursions on the Hammond. With Ken Lovelett doing the drum kit honors on this track, they open up the ending to give the drummer some. "Icarus" is Levin's bristling take on guitarist Ralph Towner's New Age anthem. "I fell in love with this piece when I heard David Darling play it with the Paul Winter Consort back in the '70s," says Pete. "It's an impeccable composition that adapted beautifully to a Samba tempo we could really groove on." Beck's chordal solo on this buoyant offering is a revelation. "He does harmonic stuff that is amazing," says Levin of his longtime colleague. "He just seems to pick it right out of the air!" Pete turns in an inspired solo himself and Gottlieb engages in a heated percussion jam at the tag with percussionists Valdez and Lovelett.

"Sad Truth" is a moody Giuffre ballad with Tony carrying the melody on fretless bass. "In the JG4, Jimmy played this on tenor sax," recalls Pete. "His masterful use of counterpoint usually had me doubling his leads in my right hand and the bass with my left with nothing in the middle; Very transparent. It took a renewed sense of discipline to adapt my own playing style to Jimmy's orchestrations." DeMicco contributes some sensitive acoustic guitar while Lovelett offers percussive coloring on this darkly atmospheric piece.
"Eclipse" is DeMicco's unadulterated swinger that showcases the guitarist in full-out Pat Martino mode. "Mike's a tremendous player - very soulful - and he's also a very talented composer," says Pete. "I've performed "Eclipse" with him many times before. It's one of my favorite pieces of his – and great to solo on too. We let Danny Gottlieb go nuts with a drum solo at the end. Danny is brilliant at finding the perfect energy to bring to a piece. Whatever you're doing, he makes it work. It's uncanny."

"Might Have Been" is a relaxed, slow-moving bolero that features some soaring guitar work from Beck, whose delay-soaked lines and biting, bluesy abandon add spice to the track. A rendition of Jimmy Giuffre's challenging, suite-like composition "Dragonfly" opens with a grand flurry before shifting nimbly to a swing section full of intricate stop-time phrases executed in unison. DeMicco blows over the myriad of changes with Bensonesque aplomb during his solo; Levin takes a more deliberate approach to his solo, gradually building the energy until he's double-timing the tempo and effortlessly blowing over the barline with boppish abandon. "Jimmy's compositions for The Quartet were very transparent and elegant," says Pete, "and straight ahead grooving was definitely against the rules. Here, I'm fingerpainting in the spaces and grooving hard. But it's a different context; The Hammond made me do it!"

The collection closes on a nostalgic note with a relaxed rendition of the old Dixieland tune "Mean To Me," underscored by Gottlieb's swinging brushwork and featuring a pyrotechnic solo by Levin. Beck, who comps steadily like Freddie Green throughout this jazz standard, also contributes a buoyantly swinging solo of his own, culminating in some deft chordal melody playing and fiery exchanges at the tag.

For Levin, this recording was a labor of love that brought him full circle back to his roots.

"The Hammond Organ has got such a rich history; There's really no other sound quite like it. Even the best synth simulations fall short. You crank up that tone wheel motor, you hit a note and it sings to you and immediately you know it's the real deal. It's like the soul of every organ player is being breathed out from the instrument every time you play it."

Pete conveys that feeling on Deacon Blues, his triumphant B-3 manifesto.

Bill Milkowski

Bill Milkowski is a regular contributor to Jazz Times and Jazziz magazines. He is author of "JACO: The Extraordinary and Tragic Life of Jaco Pastorius" (Backbeat Books)
on this page: liner notes artist notes cd tracks cd credits
artist notes
Download this document in Word format
Hard to believe that Hammond stopped making their classic tonewheel organ over 30 years ago. It's an amazing instrument. No two sound exactly alike - each with it's own personality and a soulful sound that comes from the gut. The best attempts to simulate that sound still come up short, and the classic is sought after more than ever. I've been a synthesizer "specialist" for over 30 years, but my favorite gigs were always the ones where they let me use organ. Now everybody wants it. (The trick is getting "everybody" to help me carry it in to the gig. It isn't getting any lighter!)

This CD started out as a pure organ trio project, but I did get carried away and did a bit of orchestrating. (By the way, the classic trio is organ-guitar-drums, not 3 organs. Everybody makes that mistake.) Organ players love the trio format - maybe because the bass player shows up when you do, plays exactly what you do, and you don't have to pay him! This is the first "playing" album I've recorded in a long time. It's a collection of pieces that I've always wanted to do something with - and what better plan than letting Mike and Joe loose on them.

After 15 years touring and recording with him, my first solo album in 1989 was a tribute to the legendary Gil Evans. This time around, inspiration comes from my second mentor, Jimmy Giuffre, the brilliant composer and woodwind player whose quartet I performed and recorded with for 8 years. I've included two of my favorites from Jimmy's book, Dragonfly and the haunting Sad Truth.

This set features two of my favorite guitarists - two totally different players. Mike Demicco cruises through the scariest chord changes you can throw at him and still makes it feel like it's coming from the Blues. Joe Beck's ability to improvise complex structure and harmonic movement is awesome. Danny Gottlieb's grooves make playing effortless. And anything you pull out of the air, he's right there, as though you worked it out ahead of time. Usually you don't use bass with organ Jazz, but having Tony Levin on your track always makes what you're doing better. Restricted by the standard crop of percussion toys, Ken Lovlett has been rewriting the book, inventing and building his own unique instruments. And for those hard-hittin' conga grooves, Carlos Valdez is in the house. A great band and the engineering A Team. My friends are very good at what they do - and I'm lucky to have them! Thanks a lot, guys.
Pete
on this page: liner notes artist notes cd tracks cd credits
deacon blues tracks
Download this document in Word format
1 DEACON BLUES 5:21
(Donald Fagen © 1977, Universal MCA Music Publishing, BMI)
2 UPTOWN 6:49
(Pete Levin © 2006, P-Lev, Inc., ASCAP)
3 SAIL ON SAILOR 6:37
(Brian Wilson, R. Kennedy © 1979, Brother Publishing Co., BMI)
4 1ST GYMNOPEDIE 6:00
(Erik Satie 1888-1925 arr. Pete Levin, © 2006, P-Lev, Inc., ASCAP)
5 ONCE LOST 3:59
(Pete Levin © 2006, P-Lev, Inc., ASCAP)
6 ICARUS 6:39
(Ralph Towner © 1972, Distant Hills Music, ASCAP)
7 SAD TRUTH 3:59
(Jimmy Giuffre © 1983, Beach Music Publishing, BMI)
8 ECLIPSE 7:06
(Mike DeMicco © 2000, Demtone Music, BMI)
9 MIGHT HAVE BEEN 5:42
(Pete Levin © 2006, P-Lev, Inc., ASCAP)
10 DRAGONFLY 8:33
(Jimmy Giuffre © 1983, Beach Music Publishing, BMI)
11 MEAN TO ME 5:56
(Fred Ahlert, Roy Turk © 1929, Cromwell Music, Inc., ASCAP)
Joe Beck: guitar (tracks 1, 2, 6, 9, 11)
Mike DeMicco: guitar (tracks 3, 4, 5, 7, 8, 10)
Danny Gottlieb: drums (tracks 1, 2, 3, 4, 6, 8, 9, 10, 11)
Tony Levin: bass (tracks 3, 4, 6, 7)
Ken Lovelett: drums (tracks 5, 7) percussion (tracks 6, 7, 8, 10)
Carlos Valdez: percussion (tracks 1, 2, 6)
on this page: liner notes artist notes cd tracks cd credits
deacon blues credits
Recorded at Sonart Recording Studio, Mount Tremper, NY
Recorded by Pete Levin, Tom Mark, Paul Levin and Joe Beck
Mixed and Mastered by Cynthia Daniels at Monk Music, Easthampton, NY - http://www.cynthiadaniels.net
Tony Levin appears courtesy Narada Records - http://www.tonylevin.com
Danny Gottlieb plays Zildjian Cymbals and Basix Drums - http://www.dannygottlieb.com
Ken Lovelett plays American Percussion Instruments - http://www.americanpercussion.com
Pete's Hammond is an RT3, restored and chopped by Mike Torsone,
played through a 122 Leslie restored by Goff Professional and John Weisner.
Produced by Pete Levin
Executive producers: Jana Herzen & Pete Levin
Coordinating Producer: Suzi Reynolds
Licensed and distributed by Motéma Music, LLC. http://www.motema.com
Cover photograph by Dion Ogust http://www.dionphoto.com
Art Direction: Jana Herzen
Design Layout: Kaitlin Doorley