VINTAGE GUITAR MAGAZINE
HIT LIST REVIEWS
April, 2007

PETE LEVIN
DEACON BLUES
Motema Music


Levin is a keyboard specialist who for the past few decades has played with the best in the business, including Paul Simon, Miles Davis, John Scofield, Robbie Robertson, David Sanborn and plenty of others. On this set he concentrates on Hammond organ and lines up two of his favorite guitarists to simulate an old organ trio. Joe Beck is one of the real giants of fusion, and has made fine records. He's an incredible player, as his five cuts here attest. His comping and be-bop attitude help Levin translate Steely Dan's "Deacon Blues" into a hard swinger. "Uptown" is highlighted by minor-key soloing with octaves bouncing off the wall. If you want an idea of how good he is, harmonically check out "Mean to Me," where he mixes incredible chord soloing with single lines in a way most guitarists would only dream about. And Levin turns his original "Might Have Been" into a vehicle for Beck to show off a bluesy side that remains melodic.

The other guitarist is Mike DeMicco, whose wonderfully imaginative playing helps turn the Beach Boys' classic "Sail On Sailor" into a natural adaptation. DeMicco's original "Eclipse" is a hard bopper that finds him playing around the changes about as well as anyone. It's the perfect demonstration of chops. He also shows his ballad skills on Erik Satie's "First Gymnopedie."

Overall, this is a hard-driving set that features Levin, his brother, Tony, on bass, the two guitarists, and drummer Danny Gottlieb in a relaxed session that lets everyone show their skills. - JH

Guitar World's BASS GUITAR
March 2007

THE LO-PASS FILTER (CD reviews)

PETE LEVIN
DEACON BLUES
Motéma

Hammond organist Pete Levin's slightly more famous brother Tony joins him here on five-string fretless, and it's clear from the opening strains of the Steely Dan title cover that the two had a blast. An airy version of avant-garde composer Erik Satie's "First Gymnopedie" is the arguable centerpiece, with both Levins logging seamlessly sympatico performances. - Bill Murphy

Progression Magazine
March 2007

PETE LEVIN - "DEACON BLUES" ( Motema)

There's just nothing that can replace the classic sound of a Leslie speaker-driven Hammond B3 organ. Pete Levin should certainly be counted among the instrument's modern masters as he has served as a session artist and touring sideman for decades.

On "Deacon Blues" he comes center stage with a post-bop oriented agenda that highlights swinging original compositions, empathic players and a great overall vibe.

"Might Have Been" is a Levin tune that's cool and lounge-y, with biting guitar work from Joe Beck and fine support from Danny Gottlieb on drums. The title track "Deacon Blues" is the classic Steely Dan composition given a brisk and swinging instrumental redux.

The Ralph Towner tune "Icarus" takes on a strong and vibrant Latin feel with a push from Pete's brother Tony Levin on bass and Carlos Valdez on congas.

Guitarist Mike DeMicco and percussionist Ken Lovelett round out the cast, but the timeless "organ trio" sound of Beck and Gottlieb recall the salad days of Jimmy Smith and his essential '60s Blue Note sides.

- Eric Harabadian

Daily Freeman
Kingston, NY
March, 2007

PETE LEVIN
Deacon Blues
(Motema)
by David Malachowski

Venerable musician Pete Levin has played with a dizzying array of superstars, from pop giants Paul Simon and Annie Lennox, to jazz icons Miles Davis and Gil Evans, but with Deacon Blues, he has a lot to say himself, and we should all stop and listen.

Though Levin has made his mark as the go to guy for synth, this release is a B3 organ extravaganza, and with the recent passing of icon Jimmy Smith, Levin now steps into that void.

Recorded in Mt. Tremper at Sonart Studios, Levin not surprisingly brings in an impressive crew; famed bassist (and brother) Tony Levin, brilliant guitarist Mike DeMicco, ace percussionists Ken Lovelett and Carlos Valdez as well as jazz legends guitarist Joe Beck and drummer Danny Gottlieb.

His tenure with Evans had to be a school unto itself, and it's evident in his approach and touch.

The Donald Fagen penned title track has a deadly groove that Levin takes full advantage of. Hearing the Hammond B3 take the melody is simply something that has to make you smile. Levin then pushes it with a juicy solo, but it's not over yet-Beck chimes in with a complex and compelling solo with a pure tone and intense drive.

Levin's own "Uptown" is full of space and Beck again is just jaw dropping in his skyward solo. "Sail On Sailor" surely an under appreciated Beach Boys gem, is given some respect here. DeMicco finally joins the fray, and though one foot is in the jazz pond, the other is deep in the blues muddy river. He offers a stinging, emotional solo, Levin follows with a powerhouse ride that you can just picture him pushing and shaking the organ.

Levin's own "Once Lost" (with another blazing DeMicco solo) and "Might Have Been" reveal he can write as well as he plays.

Ralph Toner's "Icarus" is a sure highlight; with it's myriad of changes and gorgeous melody. Levin shows off his harmonic range here, while Beck double-stops like there's no tomorrow.

Tony Levin shines in "Sad Truth," a slippery fretless intro here is just stunningly beautiful, and sets the tone for Pete as he picks up the ball midway with some meaty notes and clever phrases that serpentine around his brother's bass.

Bringing in the heavy­hitter soloists certainly makes this outing a real treat, but make no mistake, Levin is never overshadowed here, he in fact is the reason why the others are able to soar, and he does himself time and again.

A true master musician, Levin is never shackled by genre or form, if he thinks it, he can play it. But Deacon Blues is a real jazz record and all you have to do is listen, and smile.

David Malachowski is a guitarist, producer and freelance journalist living in Woodstock.

Sea of Tranquility
[Online review site for jazz fusion/prog, etc]
February 12th 2007
Reviewer: Pete Pardo
Score: * * * *

Levin, Pete: Deacon Blues

Pete Levin should be familiar to many fans of jazz, fusion, and prog, as not only has he played with the likes of Miles Davis, David Sanborn, John Scofield, Paul Simon, Robbie Robertson, Jaco Pastorius, Wayne Shorter, Annie Lennox, Lenny White, and Gil Evans, but he also happens to be the brother of acclaimed bassist Tony Levin. On Pete's latest solo album, the keyboard ace has recorded a throwback to the 60's organ trio's (Jimmy Smith or Larry Young anyone?) featuring his tasty Hammond licks coupled with guitarists Joe Beck & Mike DeMicco, drummer Danny Gottlieb, Carlos Valdez & Ken Lovelett on percussion, and brother Tony on bass.

Normally known for his synthesizer prowess, Levin's Hammond skills are upfront and center here on Deacon Blues. Listen to him add his smoky tone alongside the smooth as silk trappings from ace guitar veteran Beck on the title track, a cover of the Steely Dan classic. The two trade barbs on the red-hot "Uptown", and the Ralph Towner staple "Icarus" is given a royal treatment with some spooky organ from Levin and Beck's tasty legato licks. However, it's "Might Have Been" that offers up Joe Beck's most explosive solo on the CD, a scorching rock driven excursion with a touch of LA Jazz, sounding very much like a young Larry Carlton. DeMicco also gets room to shine, dueling with Tony's slippery bass lines on the laid back "Sad Truth", laying down liquid lines on "Eclipse", and blazing through the Brian Wilson penned "Sail on Sailor".

Despite all this guitar wizardry, this is really a vehicle for the great Hammond playing of Pete Levin, which is probably no more stunning than on the wonderful "First Gymnopedie", where he really digs in and stretches for some sumptuous lines that would make the late Jimmy Smith proud. B3 lovers get ready-Deacon Blues is a feast for the ears, and a super treat for Hammond fans.

Enjoy Entertainment Guide
Poughkeepsie Journal
Indulge in Levin's love of jazz
By John Barry


Pete Levin and band plays Rosendale March 3




February 23, 2007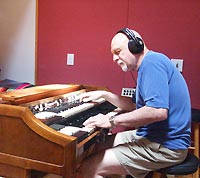 Fresh out of The Juilliard School, from which he graduated with a master's degree in French horn, Pete Levin in the early 1970s was a very busy session musician.
"There was a lot of work at that time," Levin, a jazz musician, Massachusetts native and current Saugerties resident, said during a recent telephone interview with the Journal. "I was walking around Manhattan, doing two, three sessions a day."
One of the many other musicians doing session work at the time - a horn player - completed his session work one day in 1973 and returned home to New Jersey, before coming back to the city for his gig with the Gil Evans Orchestra, fronted by one of the heavyweights of modern jazz. He arrived at the Village Vanguard, then realized he had forgotten his mouthpiece at home.
Rather than heading home for the mouthpiece and returning, he decided he didn't need the job and left. The vacancy prompted two other band members to call their friend, Pete Levin.
"I had a couple friends in the band who called me and said, 'you gotta come down,' " Levin recalled.
Evans was booked for a week at the Village Vanguard. He kept Levin in the band for that run of shows and for the next 15 years, until Evans died in 1988.
That gig was one way Levin expressed his love of jazz.
"I can't remember a time when I wasn't into jazz," he said. "It goes back to high school."
You can hear Levin indulge his love of jazz on his new CD, "Deacon Blues." You can see Levin play jazz one week from Saturday, on March 3, when he brings his quartet to the Rosendale Cafe.
Supporting Levin on guitar will be Joe Beck, who has worked with Frank Sinatra, Miles Davis and Stan Getz. Playing drums will be Harvey Sorgen, who has played with hot Tuna, Bill Frisell and Anthony Braxton; and rounding out the quartet will be Ernie Colon on percussion.
But Levin won't be playing the French horn in Rosendale, thanks to some musical experimentation he engaged in after playing with Evans for several years. In Rosendale, Levin will be playing jazz on the Hammond organ.
"I was experimenting with synthesizers," Levin said of the instrument that at the time was nowhere nearly as widely used as it is now. "I asked Gil if I could bring one in, make some noises, see how I could contribute. I had a double keyboard rig. He started writing for it and giving me more space. ... He got another horn player. I stopped bringing the horn and that was that."
Levin stuck with the synthesizer after his early exploration with the Evans Orchestra. He worked on music for commercials, which were interested in these new, outer space, synthesizer sounds, particularly since the film "Star Wars" had become a hit.
"The synthesizer is an instrument that doesn't have an established sound," Levin said. "It could sound like almost anything you wanted it to by just tweaking knobs and experimenting and adjusting it. You could take it to a whole other place. It was all about experimentation."
You can watch Levin apply his expertise to this tonal technology when he plays with Uncle Funk, an Ulster County-based superstar dance band that plays cover songs; and the Tony Levin Band, which is fronted by his brother, the bass player for Peter Gabriel; and which often veers into unknown musical territory.
But Levin really tears it up, rips it apart and sews it all back together on the Hammond organ.
"I love his feel, his sense of time, his groove," said Sorgen, who lives in West Shokan and worked with the band My Morning Jacket on their most recent album, which was recorded at Allaire Studios in Shokan. "He's really very strongly groove-oriented. So much of the groove comes from him. It's really easy. It really flows."
As his musical training reached beyond the French horn to a wide array of instruments with keyboards, Levin's exploration of different musical genres has many layers. He has toured with Annie Lennox and along with his brother, toured with Paul Simon.
"Pete's training ranges from classical (French horn at Juilliard) to rock and jazz, with short shops at banjo bands and weirder(!)," wrote Tony Levin in an e-mail. "But his love of jazz keeps bringing him back to that genre - he's very well known, having played live with many groups, and recorded with even more. So it's good to see Pete choosing the material he digs and 'giving it some' on the Hammond B3. The sound is classic, and his playing is terrific."
Gigs with Annie Lennox, Paul Simon and Miles Davis - along with next week's concert in support of his new CD - all mark milestones for this kid from Brookline, Mass.
Incidentally, Levin graduated from Boston University with a degree in music education after a high school teacher suggested the young musician "have something to fall back on."
But he seems to have always gotten his biggest musical kicks while performing live. And the music he loves to perform live is jazz.
"It's very much a function of or a process of a musician expressing themselves," he said. "Improvising, it's kind of like the composing process, except that you're doing it on the spot. Musicians who are very good at that, will, on the spot, be composing compositions that appeal to people."
John W. Barry can be reached at jobarry@poughkeepsiejournal.com.

Blog Critics Magazine (online)
Music Review: Indie Round-Up
Written by Jon Sobel
March 02, 2007

Pete Levin, Deacon Blues

The new CD by Pete Levin, the venerable New York synthesizer and Hammond organ specialist (and brother of bass and Chapman stick legend Tony Levin), is a set of pleasant, energetic Adult Contemporary jazz with occasional bursts of fusion energy. It's all very classy, but clean and unthreatening, which isn't how I generally like my jazz. Some situations do call for this kind of music, though, and there's certainly plenty of talent on display here.

Levin's solid, tasty touch on the Hammond organ is the constant, but longtime collaborator Danny Gottlieb's pastel-colorful drumming - listen to his inspired, in-time solo on "Icarus" - anchors the group on most tracks. Tony Levin's rubbery bass leads the Jimmy Giuffre mood ballad "Sad Truth," which also features a deep, delicate organ solo by Pete.

"Eclipse," composed by the feathery-fingered guitarist Mike DeMicco, is probably my favorite track - it goes just a bit further out, and is the more satisfying for it. "Dragonfly" (another Giuffre tune) brings the fusion, with even a little touch of prog-rock. There's a selection of classic songs too, adroitly given the smooth-jazz treatment. The Steely Dan hit "Deacon Blues" and the Beach Boys' beautiful "Sail On Sailor" both come out well, as does the standard "Mean To Me." I could have lived without the overdone Satie piece - jazzing that one up only makes it even more overplayed than it already is. But on the whole, if you're in the mood for this kind of music, this CD could be just the thing to soothe your spirit without putting your mind to sleep.

goodsound.com
March 1, 2007
Pete Levin: Deacon Blues
Motema Music 0008
Format: CD
By Shannon Holliday
| | |
| --- | --- |
| Musical Performance | |
| Sound Quality | |
| Overall Enjoyment | |
Keyboardist Pete Levin breaks new ground in this release, highlighting his skills on Hammond B-3 organ. He is abetted by a talented selection of musicians that includes guitarists Joe Beck and Mike DeMicco; Levin's bassist brother, Tony; percussionists Carlos Valdez and Ken Lovelett; and drummer Danny Gottlieb, original drummer for the Pat Metheny Group. The contemporary jazz produced by this group is exploratory and improvisational. The title track, made famous by Steely Dan, is lushly interpreted in a shuffle-swing style, and provides an ideal vehicle for Levin's organ right from the start. DeMicco's "Eclipse" is a soulful seven-minute journey made more exotic by a wash of chimes captured with precise clarity. Perhaps most impressive is a cover of Jimmy Giuffre's "Dragonfly" -- a challenging, driving force of a song propelled by Levin's double-time tempo on B-3. Deacon Blues is one album to turn up loud and listen to in awe -- at a group of jazz masters having fun.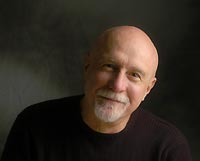 A new stage
Pete Levin finds room to breathe
with Capital Rep's latest show

By Greg Haymes
Times Union, Albany, NY
March 29, 2007
"I stopped playing in theatrical shows a while ago, because I'm just not comfortable playing the same thing the same way every night, night after night," says jazz keyboardist Pete Levin.

That's the kiss of death for most jazz musicians, who thrive on the thrill of free-spirited improvisation.

"For most stage shows, whether it's 'Oklahoma!' or 'Tommy,' there's a book that's been worked out, and you play your part exactly the way that it's written. I don't mean to make that sound artistically invalid, because it's not; but it's just not what I do.

"Fortunately, this is different," he says, explaining why you'll find him playing the piano in the on-stage band nightly for Capital Repertory Theatre's rousing production of "It Ain't Nothin' But The Blues."

"The music is sketched out, but it's not dictated very strictly, so there's plenty of room for individual performances from the musicians, as well as interpretive performance by the band."

After some coaxing, musical director and bandleader (and sometime Times Union critic) David Malachowski recruited Levin to play in the stage band. "David's a great guitar player, and all six of the actors are also very strong singers, which is a rare thing," Levin points out.

"In other words, this is a theatrical performance with all of the lights and the choreography and everything, but the music still breathes, so it's not going to be exactly the same every night."

In fact, Levin had to take time off during the run of the show to go to Mexico last week to play with the Tony Levin Band – yes, the bassist is his brother – at the Baja Prog Festival in Mexicali. Aaron Hurwitz (otherwise known as the titular bandleader of Professor Louie and the Crowmatix) filled in on piano at Cap Rep until Levin returned from the road on Tuesday.

"Aaron is really very knowledgeable about the blues, and he plays the stuff right," Levin says, "while I'm coming at it from more of a jazz perspective."

Indeed, Levin is an acclaimed jazz veteran who has performed and recorded with such world class pop stars as Annie Lennox, Paul Simon and Robbie Robertson, as well as with jazz greats miles Davis, Wayne Shorter and Jaco Pastorius.

"For years, I was in Gil Evans' band, and I learned a lot from Gil," says the soft-spoken Levin, who lives just outside of Woodstock. "It was like going to school for 15 years. One of the many things that I learned was to let the music take you where it wanted to go.

"He was one of the greatest jazz arrangers and orchestrators of all time, and yet he wanted to allow his musicians the freedom to make the music their own. Sometimes it didn't work, but that didn't matter to him. It was about the feeling, the vibe and the effort of what we were trying to do."

While he's doing the Cap Rep production, Levin is also gearing up to promote his new disc "Deacon Blues" on the Motema Music label; it's his first CD as a bandleader in years. Backed by an ace band of musicians – including guitarists Joe Beck and Mike DeMicco, drummer Danny Gottlieb and his bassist brother Tony – Levin has crafted an elegant, eclectic album on the Hammond organ.

"I've been playing the organ since the '60s, and I've played in a lot of organ trios, but I had never recorded that way," Levin admits. "I just wanted to do it, and there was no more of a reason behind it than that. I really did it for myself, as a feel-good king of thing.

"My intention was just to press up a bunch of copies and sell them at gigs or just give them away to friends. I had no marketing plan at all."

He didn't have any particular plan, either, when he concocted the album's diverse repertoires, ranging from the Beach Boys' "Sail On, Sailor" to Ralph Towner's soaring "Icarus" to the classical Erik Satie gem "first Gymnopedie." Despite the wide range of song sources, the album positively hums along.

"If I'm making music, I want to try to add as much of my own personality as possible to the musical tapestry within the context of the performance – whether it's a blues band, a jam band, or a band sitting in the pit at a theater. When you put a song in front of me, I look at it and think, 'How can I contribute?'"

Featured Artist: Pete Levin

jazzreview.com
Reviewed by: Thomas R. Erdmann
april 2007

CD Title: Deacon Blues
Year: 2007
Record Label: Motema
Style: Soul / Funk Jazz
Musicians:
Pete Levin (organ), Joe Beck (guitar), Mike DeMicco (Guitar), Danny Gottlieb (drums), Tony Levin (bass), Ken Lovelett (drums and percussion), Carlos Valdez (percussion)


Review:

Keyboardist and synthesist Pete Levin is one of the more interesting musicians working today. Known primarily for his abundant technique behind a wall of synthesizers, he's been called upon to provide soundscapes, keyboard backdrops and blazing fingerwork for artists such as Gil Evans, Ernie Watts, John Scofield, Sting, Lenny White, Lew Soloff, Gil Parris, New York Mary, David Sanborn, Rachelle Ferrell and Paul Simon, to name just a few. Deacon Blues, Levin's ninth recording as a leader, is a total soul-jazz freak out that is so hip as to render the term, henceforth, meaningless.

On this recording, Levin performs solely on the Hammond B-3, rocking immediately and throughout. From the opening of the first tune, a workout of Donald Fagan's "Deacon Blues," to the last note of the standard "Mean To Me," Levin and his cohorts not only don't stop to take prisoners, they run roughshod over the terrain leaving behind burned out husks of life where their path tread.

Highlights include a ripping version of the Levin original "Uptown." His fingers light it up and his solo digs so deep as to find China's soil in his hands when he's done. Few musicians are able to meld fantastic and phenomenal technique into solos so meticulously crafted, but Levin nails it. Every note of his blazing solo is well meant and placed, building logically to an exciting climax. The Brian Wilson "Sail On Sailor" is just as incredible. Note for note, Levin just doesn't know how not to be incredible.

Accompanying Levin are rotating guitarists Joe Beck and Mike DeMicco, drummers Danny Gottlieb and Ken Lovelett, percussionists Ken Lovelett and Carlos Valdez and brother Tony Levin on bass when Pete doesn't handle those duties himself from the B-3's stool. On each and every tune, all the musicians just as supportive and hard-driving as the leader. On the guitar chair, Beck is more percussive and punctuating in his guitar style and matches Levin precisely on "Deacon Blues" and Ralph Towner's "Icarus," while DeMicco seeks to splash more with extended chordal layering, each to brilliant effect. With the addition of the drummers and percussionists, who serve to work up an astounding implosive drive on each and every tune, there just isn't a bad cut on the disc.

Overall, this recording should do for soul-jazz what Charlie Parker, Sonny Stitt, Phil Woods and Richie Cole have done for bebop saxophone, give pause to others before attempting even the thought of taking on the genre.

Tracks: Deacon Blues, Uptown, Sail On Sailor, First Gymnopedie, Once Lost, Icarus, Sad Truth, Eclipse, Might Have Been, Dragonfly and Mean To Me

Rochester City Newspaper
Apr. 4th, 2007

Pete Levin "Deacon Blues"
Motema Music
By Ron Netsky

Organist Pete Levin has been a vital force in the jazz and pop music worlds since the 1970s. But if you know him, it's probably through his work with others. He began on French horn with Gil Evans, but once he brought a Moog synthesizer to a practice his role - and career - changed. Since then he's played keyboards for Paul Simon, Annie Lennox, his brother, Tony Levin, and many others. Deacon Blues features Joe Beck and Mike DeMicco on guitar, Danny Gottlieb, Ken Lovelett, and Carlos Valdez on drums and percussion, and Tony Levin on bass. All are stellar players, with DeMicco and Beck soloing beautifully at every turn. But the obvious star is Levin who, aside from providing some original soul-jazz tunes (notably "Uptown"), takes the Hammond B-3 for wild rides on rock classics like Steely Dan's title track, Brian Wilson's "Sail On Sailor," and a classical classic, Erik Satie's "First Gymnopedie."

Nashville City Newspaper
March 23, 2007
RIFFS, By Ron Wynn

New jazz

Pete Levin didn't make his mark on the New York jazz scene as an organist. Instead it was his ability on synthesizer that was featured during his stint with Gil Evans, and he also played that instrument during periods backing Paul Simon and Annie Lennox. But he sounds right at home on organ throughout his new CD Deacon Blues (Motema), whether doing slow grooves, moving into bop territory or doing contemporary pieces like "Once Lost," where he supplies a driving organ solo over a recurring drum loop. "Sad Truth" mixes spry fretless bass lines from Tony Levin with more fiery solos from Levin, while guitarist Mike DeMicco is the featured second soloist on "Eclipse," and drummer Danny Gottlieb shifts from expert complimentary percussionist to standout soloist midway through "First Gymnopedie," a jazz reconfiguration of Erik Satie's classical work. Guitarist Joe Beck soars on "Might Have Been," while DeMicco's back in the spotlight on "Might Have Been."

Downbeat Magazine
May 2007

Pete Levin
Deacon Blues
Motema Music 8
by Ken Micallef

Synth specialist Pete Levin has veered into organ territory. The New York artist has a serious keyboard resume (playing with the likes of John Scofield, Miles Davis and Gil Evans), so you'd expect him to lay down some real grease and gravy on Deacon Blues, his 11th album as a leader yet his first to embrace the Hammond B-3. Instead, Levin goes for a more cosmopolitan approach, mixing burners ("Uptown," "Icarus") with snore-inducing musings ("First Gymnopedie," "Sad Truth," "Might Have Been"), mellow swingers ("Mean To Me," "Eclipse") and progressive fusion/bop ("Dragonfly").
Levin and company play it cool for much of the album, laying back when they should be charging, adopting a predominantly mellow tone that smacks of too many sterile studios and commercial jingle dates. But when the group catches fire, as on "Dragonfly" and "Uptown," Deacon Blues glows with purpose. Drummer Danny Gottlieb floats like a bee on the circuitously flammable "Dragonfly," which also features some of Levin's best B-3 work, and everyone smokes on "Uptown," a classic organ trio cooker. The date's a mixed bag, but one that still offers some moments of white-knuckled heat.

Blue Railroad Magazine
May 2007

Pete Levin: Deacon Blues
by Paul Zollo

He's one of the greatest studio cats around - he's played synth and organ for a multitude of legends, including Paul Simon and Annie Lennox, and most famously Gil Evans, with whom he worked for fifteen years. Now here comes another turn for Pete Levin to shine, this being his fourth solo album, and it's a magical and soulfully swinging song cycle that all fans of virtuosic jazz will seriously dig. Great chops, great vibes, great time spent deep in the pocket of the music. The man knows how to make a Hammond B-3 sing. With about as solid of a crew of supporting players as any musician could dream (his brother Tony Levin on bass, two excellent and unique guitarists - Joe Beck and Mike DeMicco, Danny Gottlieb on drums, Ken Lovelett on percussion & drums and Carlos Valdez on percussion), this record cooks and sizzles with high-life jazz intensity. It starts off with Becker & Fagen's Steely Dan classic "Deacon Blues" (which is inexplicably credited only to Fagen) on which Pete shows us what he does best -singing the tune and comping on the cool changes at the same time, his Hammond popping and bouncing along this great slinky tune with a sunny elasticity that is invigorating. Gottlieb's drums are the engine that drives this machine; they are solidly soulful and swinging throughout. And this guy on bass, Tony Levin - he's pretty damn good. Nice of Pete to give his career a little boost. His eloquence far surpasses any bass bluster. The man knows what he's doing. Brian Wilson's "Sail On Sailor" is given a lilting inflection that it doesn't have when performed by the Beach Boys - Pete finds whole new dimensions in songs we didn't even know were there. And he goes from Brian to Satie, bringing us a breezy rendition of "First Gymnopedie" with the guitars playing those famous major-seventh chords as Pete lets the Hammond fly through this haunting melody. It's an unusual, unexpected choice - and it works. His own song, "Once Lost" erupts with a shining kind of streetwise jazz wisdom and burning guitar that dances with Pete's Hammond flourishes. Again, Gottlieb's drums on this are more than rhythm - the man plays melodies on the skins. Ralph Towner's "Icarus" resounds with the mythic grace of the original, and allows brother Tony to do what he does best - his bass lines over these hip, complex changes shows you why he is who he is. He provides everything a great bass-line should provide - he cooks with the changes, he swings and percolates with the rhythm and he provides a stealthy and inspired counterpoint to the melody and solos. He and Pete lock into a lofty jazz journey that only siblings with shared soul sensibility could achieve. And it all ends on a happy note - Ahlert & Turk's 1929 exultant ode to joy, "Mean To Me," on which Pete's playing soars with fervent swagger. It's an ideal cathartic culmination to this triumphant expedition into the heart of authentic jazz.

Jazz Times
May 2007

Deacon Blues
Pete Levin
by Bill Meredith

Keyboardist Pete Levin has remained under the radar, especially when compared to bass-playing brother Tony Levin (Peter Gabriel, King Crimson), by playing as a sideman and working in TV and film over the past 40 years. Deacon Blues is a rare solo release, and features the synthesizer specialist playing Hammond organ exclusively.

Early cuts, like covers of Steely Dan (the title track) and the Beach Boys ("Sail On Sailor") succeed through Levin's interplay with drummer Danny Gottlieb and guitarists Joe Beck and Mike DeMicco. Brother Tony contributes bass on a few tracks, freeing up the keyboardist from his simultaneous bass pedals and resulting in the disc's best performance, a creative Levin arrangement of classical composer Erik Satie's "First Gymnopedie."

But unless your name is Jimmy Smith, Hammond organ is difficult enough to make a compelling recording on, and Levin gets undercut by his percussionists during the disc's second half. Beginning with the keyboardist's "Once Lost," Carlos Valdez and especially Ken Lovett unleash a series of overused wind chimes that would make a New Age composer—which Levin has occasionally been during the past 15 years—blush.

Sequential compositions by Ralph Towner ("Icarus"), Jimmy Giuffre ("Sad Truth") and DeMicco ("Eclipse") also suffer, as does Giuffre's "Dragonfly" near the disc's end. Levin's remaining original, the sans-chimes "Might Have Been," should've been the title track—since Deacon Blues might have been better with less overblown metallics or at least better song sequencing.

Audiophile Audition
Pete Levin, B-3 - Deacon Blues - Motéma
A B-3-based album with a difference
May 2007
by John Henry

Pete Levin, B-3 - Deacon Blues - Motéma MTM 0008, 66 min. *****:

(Peter Levin, B-3; Joe Beck & Mike Demicco, guitars; Danny Gottlieb, drums; Tony Levin, bass; Ken Lovelett & Carlos Valdez, drums & percussion)

Keyboardist/synthesist/arranger Peter Levin was a mainstay of the Gil Evans Orchestra during the 1980s. He has also been an in-demand session player on the NYC scene and this is his ninth album since 1990 as a solo artist. In spite of all the alternate electronics he has worked with over the years, Levin says that his first love is the B-3 Hammond and he wanted to return to his roots for this new album. He feels "There's really no other sound quite like it. Even the best synth simulations fall short."

Since Levin has been doing all sorts of other musical gigs in recent years (including commercials and film and TV scores) and hasn't been stuck performing regularly in a typical B-3 trio format, he brings a fresh new approach to his role as the band leader on this new disc. He has expanded on the usual organ trio by adding a second guitar, more percussion, and his distinctive arrangements are flavored with samba, soul and even hip-hop. His brother Tony is a veteran side man and solo artist, so using him on bass is not nepotism. (30 years ago they fronted a Spike Jones tribute band for a top-40 single which Peter still says was his all-time favorite recording session.)

The tunes here are not at all the typical ones you might hear on a B-3 trio album. The opener and album title is the Steely Dan hit Deacon Blues. The 60s Blue Note sound is prominent in the next track, Uptown, and the Beach Boy's hit Sail On Sailor has a nearly smooth jazz arrangement. One of Erik Satie's Gymnopedies takes on a jazz waltz form, and another unexpectedly welcome tune to my ears is Ralph Towner's vehicle for the band Oregon, Icarus. Two Jimmy Giuffre compositions grace the CD - another brave foray by Levin into challenging compositional territory, but beautifully handled. The 11th track brings things to a rousing close with a strong B-3 trio treatment of Mean To Me. The whole CD has so much more depth and density than the typical B-3 trio album that most of the competition pales in comparison.

Cadence
The Review of Jazz & Blues: Creative improvised music
June, 2007
lf you're heavily into the music of Gil Evans then you should know Pete Levin. The veteran keyboardist was with the iconic arranger/composer for well over a decade. The same could be said of the semi-forgotten Jimmy Giuffre, with whom Levin spent a fruitful term of employment. In fact, two of the latter's compositions, "Sad Truth" and "Dragonfly", are included on Deacon Blues. For this latest endeavor, the synthesizer whiz returns to one of his primary loves, the organ, in this case a restored vintage Hammond with Leslie cabinet. For the most part Levin supplies his own bass lines except for four tracks which use his brother, fairly famous Rock bassist Tony. The well-known Danny Gottlieb handles drum chores on the majority of cuts while the gifted Mike DeMicco and string vet Joe Beck split lead guitar duties. Other than the Steely Dan title song, a Beach Boy ditty, the Eric Satie title, "Eclipse" from Demicco, the aforementioned Giuffre pair, and the standard "Mean To Me" (which proves these guys can go totally old school), the rest come from the pen of the leader, who seems to immensely enjoy this return to his roots. A nice diversion from an always interesting musician.

Elmore Magazine
On The Record
June 2007
Pete Levin: Deacon Blues
by Robin The Hammer
What we have here is a disc full of great playing by masters of the trade. Besides Pete's brother Tony Levin on bass, you get Joe Beck and Mike DeMicco on guitar, Danny Gottlieb and Ken Lovelett on drums and Carlos Valdez, percussion.
Pete Levin is a well known and in-demand session guy, playing for acts as diverse as Annie Lennox, Wayne Shorter, Miles Davis, Robbie Robertson and many others of the same caliber. He played with Gil Evans for fifteen years, Jimmy Giuffre for eight. He is known as a synth wizard and an electronic visionary, but here he is doing what he loves to do; playing the Hammond B-3.
The approach to the tunes is varied and skillful. There is a lot of the old-time organ instrumental sound of the '60s at first ("Deacon Blues," and Pete's own composition "Uptown"), a little Jimmy Smith, a little Ray Charles - a great sound. He plays standards, new standards, drawn largely from the rock repertoire ("Sail On Sailor"), but then there's Satie's "First Gymnopedie." Then it shifts into all sorts of things, from deep jazz composition to bluesy jazz-rock. You will find throughout the record that Levin lays back and features his players - the mark of a good leader. His own "Once Lost" features Mike DeMicco's guitars, screaming and tearing against modern hip-hop inspired rhythms. There is a surprising take on Ralph Towner's "Icarus," and several different moods are explored on Jimmy Giuffre's "Sad Truth," DeMicco's "Eclipse," and Levin's "Might Have Been," featuring Joe Beck. But the standout cut for me was Giuffre's "Dragonfly," heavy heavy heavy, meditative music! It all wraps up with an old Dixieland fave, "Mean To Me," and it swings. The whole thing Swings.
All in all, a treat for fans of intimate, thoughtful jazz.

The Working Musician
More Sugar, March 2007
CD review by Roger-Z (01/20/07)
Pete Levin
"Deacon Blues"
Motéma Music MTM-0008 (release date 03/20/07)
Driving my son to the ice skating rink last night gave me just the handle I needed to review Pete Levin's "Deacon Blues" organ trio CD. For a week, I racked my brains. How does a "rocker" review a "playing" album by some of America's greatest jazz musicians? My favorite organ licks include the Spencer Davis Group's "Gimme Some Lovin'" and Steppenwolf's "Magic Carpet Ride." And then it hit me. When I was my son's age back in the Sixties, every Friday night I went ice skating. And for two hours, an organist played solo versions of everything from "Over The Rainbow" to "Yesterday" to "I Can't Get No Satisfaction." Bingo!

No, this isn't your father's ice-skating music! But the sound definitely harks back to that time. Believe it or not, they stopped making the Hammond Organ over 30 years ago! Ironically, Pete Levin made his name as a synthesizer specialist with The Gil Evans Orchestra, Miles Davis, Paul Simon, and Annie Lennox. He gets back to his roots on this album.

An organ trio usually consists of organ-guitar-drums with the keyboardist doubling on bass. Here the guitar duties fall to Joe Beck (noted session player) and Mike DeMicco (Brubeck Brothers Quartet). Danny Gottlieb (Pat Metheny Group, Gil Evans Orchestra) handles most the drum tracks with Ken Lovelett picking up the slack. Levin amplifies the group on several tunes with brother Tony on bass (John Lennon, King Crimson, Peter Gabriel). Percussionists Ken Lovelett and Carlos Valdez add additional flavor. The band grooves incomparably. The music breathes and you can feel the space.

My favorite tunes include the Levin penned soul/bossa, "Uptown," which features tasteful, Wes Montgomery inspired octave playing by guitarist Joe Beck. I always loved The Beach Boy's "Sail on Sailor" but almost didn't recognize it when I heard this bluesy arrangement featuring Mike DeMicco on stinging, single-note guitar. Levin's cascading organ swells sound great as they push DeMicco into an ever upward spiraling line. The magical first notes of the classical Eric Satie composition, "First Gymnopedie" immediately grab attention. Almost sounds like the melody from "My Favorite Things!" Then suddenly, it shifts into a swing section propelled by the mighty drum rolls of Danny Gottlieb. "Dragonfly" (composed by Jimmy Giuffre) jumps out in full Mahavishnu Orchestra mode, then segues into a swing section full of intricate twists and turns. DeMicco handles the difficult changes much like surfing giant waves. Levin takes a more conversational approach, gradually getting more animated until he just blows over the bar line. Dig the catchy melody and percussion of the DeMicco composition, "Eclipse." And what about the atmospheric, Levin tune, "Might Have Been" featuring mighty organ waves and the searing guitar of Joe Beck? Phil Collins ain't got nothing on these boys. Finally, the 1929 standard, "Mean To Me," features a wonderful "talking" solo by Levin and a great "chording" improv by Joe Beck.

This beautifully packaged CD includes a comprehensive review of each tune written by "Jazz Times" and "Jazziz" contributor Bill Milkowski. It also features a substantial overview of the album by Mr. Levin himself. What the heck can I say? Just that this CD swings old school -- real musicians playing real music in real time. And where can you find that nowadays?

©2007 Roger-Z

All Music Guide
April 2007
Deacon Blues
Pete Levin
by Ken Dryden
Pete Levin hasn't done a lot of recording under his own name, even though he's been a professional musician for decades. But this veteran of both jazz and pop eschews musical boundaries in this wide-ranging outing on Hammond organ, assisted by guitarists Joe Beck or Mike DeMicco, electric bassist Tony Levin, drummer Danny Gottlieb, and percussionists Ken Lovelett and Carlos Valdez. From the world of rock, Levin offers a snappy, grooving treatment of Donald Fagen's "Deacon Blues" and a laid-back rendition of Brian Wilson's "Sail on Sailor" that borders on smooth jazz. His catchy reworking of impressionist composer Erik Satie's First Gymnopedie takes this familiar 20th century piece into a completely new direction. Levin's "Might Have Been" is a dark, bluesy vehicle for Beck. His interpretations of two Jimmy Giuffre compositions also merit praise. The playful conclusion is a straight-ahead setting of the decades-old standard "Mean to Me." This is a fun outing by a musician who needs to get under the spotlight a bit more frequently.